High Field Magnet Laboratory
In 2010, Andre Geim and Konstantin Novoselov won the Nobel prize in Physics for their research on graphene - a 2D crystalline structure consisting of a single atomic layer of carbon. In their research, they discovered remarkable mechanical and electrical properties - it's substantially stronger than steel but also very stretchable, has extremely high thermal and electrical conductivity, and, as they discovered when studying graphene under a high magnetic field, it exhibits an unusual fractional quantum Hall effect and exotic type of tunneling. [1]
Like the research on graphene which won Gein and Novoselov the Nobel prize in Physics, much of the world's most ground-breaking research would not be possible without high magnetic field laboratories.
The success of research in materials science, chemistry, biology, and physics under high magnetic fields have major impacts on health care and technology. High magnetic fields are also used in particle accelerators like at CERN's Large Hadron Collider (LHC).
Together with the magnet laboratories in Grenoble, Dresden, and Toulouse, the High Field Magnet Laboratory at the Radboud University in Nijmegen forms part of the European Magnetic Field Laboratory. There are only a few laboratories in the world where high magnetic field research can be performed.
The High Field Magnet Laboratory (HFML) is currently developing a new 45 Tesla hybrid magnet which will be the highest continuous magnetic field in the world, tied with MagLab in the US.
For perspective, the Earth's magnetic field is on the order of 30-60 microteslas - so this magnetic field will be 106 times stronger than the magnetic field protecting us from solar wind. A typical MRI magnet is about 2 or 3 Teslas.
Since nothing quite like this magnet exists yet, the magnet has to be built from scratch, involving experts from around the world in a variety of disciplines. This new 45 Tesla hybrid magnet requires a lot of equipment to keep it running and to make sure that it is operating safely. If something goes wrong in its operation, the magnet can break - a mistake that will cost around 10 million Euros.
The High Field Magnet Laboratory has partnered with VI Technologies - entrusting us to build the software to monitor this magnet, potentially saving them ~10 million Euro.
How does the magnet work?
The magnet being developed at the High Field Magnet Laboratory is a hybrid magnet consisting of an inner resistive electromagnet which produces a magnetic field of just over 32.8T and an outer superconducting magnet that produces 12.3T. The inner resistive magnet is operated at 40kA. The outer superconducting magnet is operated at 20kA.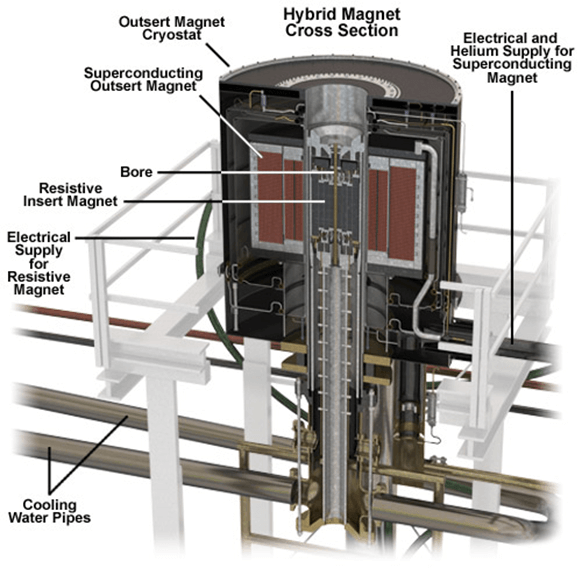 The two magnets are run together to produce a combined magnetic field strength of around 45T. This enormous amount of current creates some incredibly demanding power requirements – not just for the current to produce the magnetic field but also for the cooling system to keep the magnet operational.