What is LabVIEW?
LabVIEW is a graphical programming environment which we use to develop automated test, measurement, and control systems. LabVIEW includes extensive support for interfacing to devices such as instruments, cameras, and other devices. For deterministic, real-time systems we use LabVIEW with the real-time and FPGA modules to create fast and reliable control- and measurement systems that can run headless if required.
Our expertise reaches further than LabVIEW. Our consultants are also expert in creating solutions based on NI TestStand and NI Systemlink, or combinations of LabVIEW and other programming environments such as Python, C#, Javascript and HTML. We strive to use the best tool(s) for the job.
Curious about LabVIEW? Contact us to find out more or give it a quick try on-line here (no download or installation necessary!).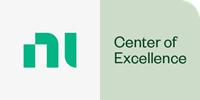 NI Center of Excellence
Companies are more successful, with higher productivity and improved quality, when they implement best practices around their use of LabVIEW. The Center of Excellence program equips companies to weave these processes into their workflow and do so in a way that furthers their unique engineering and business goals.
LabVIEW Center of Excellence Certification is awarded to elite teams of programmers who demonstrate excellence in software development with LabVIEW. After decades of working with and helping build strong software teams, we have found that three pillars are essential for ongoing success: engineer good software, engage in community learning, and ensure technical leadership.
Certification was awarded after an extensive audit and validates that our development team integrates best practices.